Women would love this new product which is now available in the Philippines.
Eau Thermale Avene is up and ready in introducing the hydrating make-up remover to Filipino women.
While it is true that cosmetic products help women improve their facial features or cover imperfections. This is not really that good a practise all the time. Think about it: an average woman can use up to 12 different products everyday—which all in all contains about 170 ingredients according to a research by U.S. organization Skin Deep. This desire to look good might prove harmful if women do not also have a proper skin regimen.
Eau Thermale Avène—the leading dermo-cosmetic brand in Europe—believes in helping women look beautiful as well as taking care of their beauty. It recently invited some of the country's most prestigious beauty and wellness bloggers and members of the media at the Salon Beauvoir in Makati, City to educate them on how to properly care for their skin before, during and after applying make-up.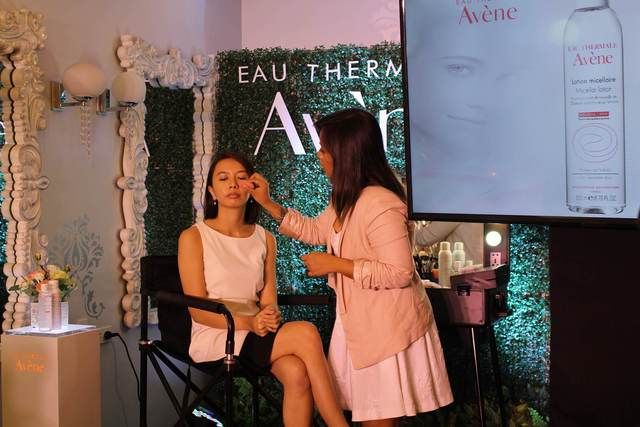 The women were given the chance to have a make-up learning session with Chuchie Ledesma, an international makeup artist. They were able to learn basic makeup in preparation for Valentine's Day.
Harry Tsai—the General Manager of Karihome Inc. which distributes Avène products to the Philippines—said that while putting on makeup can enhance a woman's beauty, knowing how to properly remove all the ingredients of the cosmetic product on the face will go a long way in ensuring a "more beautiful version of themselves."
Tsai noted that "beauty comes naturally, that's why most people make beauty an investment." And he added: "Filipino women should do the same. The application of cosmetic products can enhance their facial feature. But at the end of the day, they need to remove all these heavy makeup and make sure that they allow their skin to breathe."
During the event, Eau Thermale Avène highlighted its New Formula Micellar Lotion as the perfect companion for Filipino women who are looking for the best make-up remover in the country.
According to Tsai: "Many women in the Philippines are finding new and effective ways to look their best, and what better way to match this than by introducing a makeup remover that is powerful enough to get rid of the strongest ingredients found in cosmetics." He added: "With this product, Filipino women who have sensitive skin can still wear their favorite makeup without worry of skin irritation after washing it."
Eau Thermale Avène's New Formula Micellar Lotion has a top-of-the-line makeup removing efficacy. Its micellar cleansing agent captures skin impurities like a magnet. It is proven effective on waterproof and long-lasting cosmetic products applied on the face, eyes and lips.
"Its upgraded Micellar Lotion has a unique formula that adapts to even the most sensitive skin," Tsai said.
What's best about the Micellar Lotion, according to Tsai, is its 93-percent Avène Thermale Spring Water content which soothes and softens the skin, and restores its natural balance. This ingredient is medically proven to contain healing properties—soothing, anti-irritating and anti-inflammatory, as well as anti-free radicals—that make it suitable for allergic reactions, burning, stinging, itching and tingling sensations.
"Because of its hydrating action, the Micellar Lotion guarantees comfort for all skin types and greater hydrating efficacy than other brands," Tsai said. "Compared with the old formula, the New Micellar Lotion has more effective and gentler emollient properties. In just three hours, the users will be able to see visible hydration in their skin."
Eau Thermale Avène is deeply rooted in dermatology and hydrotherapy, with its products being supported by more than 300 clinical studies. The company offers high-quality skincare products to customers all over the world, bringing its 260 years of expertise in managing all skin types.
Tsai concluded, "Cosmetic products give more benefits to women on top of an improved facial feature. For some, this could be a way to be more presentable when talking to clients; to others, this could be as simple as feeling more confident about themselves. However, Filipinas should bear in mind that real beauty emanates from within; beauty will always be what's under those heavy makeups—and we'll help them improve their features in the most natural way."

Avene is available in select Watsons and Mercury Drug stores. For more details, please visit Avène's Facebook page at: https://web.facebook.com/EauThermaleAvenePH/ 
Avene Micellar Lotion is available at SRP 735.00